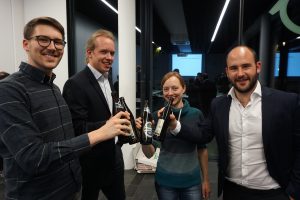 During its 55th Meeting on September 25th, the TUM Graduate Council elected two new speakers .
Sindre Haugland (Physics, 1st Speaker) and Matthias Caro (TopMath, 2nd Speaker) take over the office of the Speakers of the TUM Graudate Council from Christoph Gschnaidtner (TUM SoM) and Franziska Löhrer (Physics) as of October 1st.
The TUM Graduate Council gratefully thanks Christoph and Franziska for their dedicated comittment to the Graduate Council and to the concerns of all TUM doctoral candidates over the last year. At the same time the TUM Graduate Council wishes its new Speakers all the best for the time ahead and is very much looking forward to another successful year!