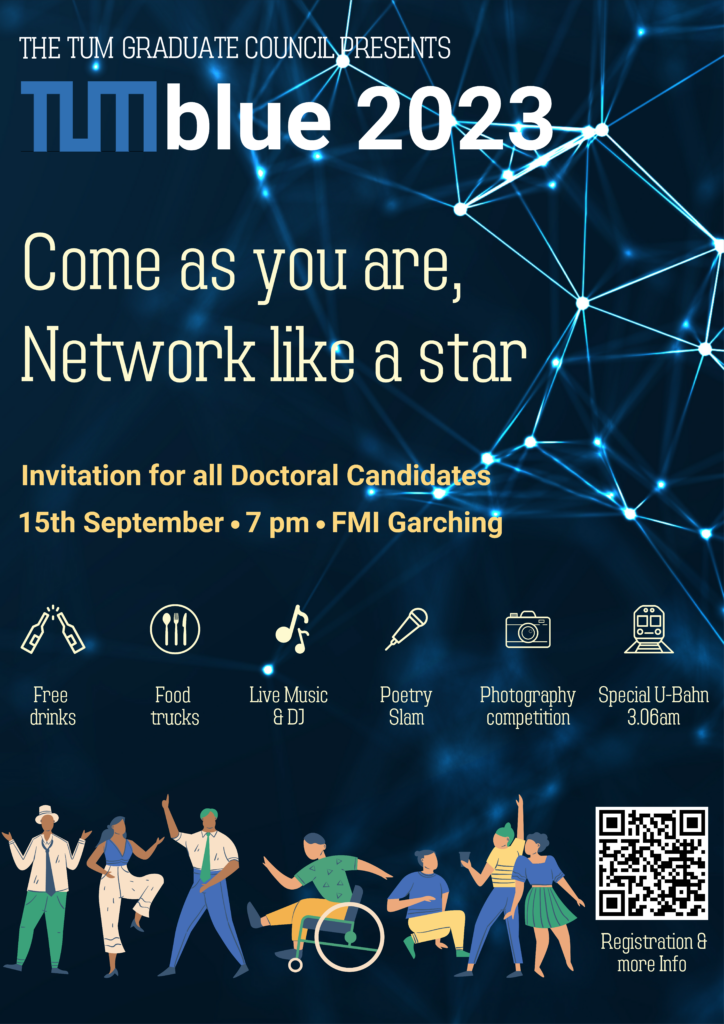 Dear Doctoral Candidate,
We are excited to announce our upcoming networking event that promises to be an extraordinary evening of connections, laughter, and unforgettable moments. Before you secure your spot, here are a few important details to keep in mind:
Here are the essential details you need to know:
Date: 15th of September 2023
Time: Entrance starts at 7:00 PM
Venue: Mathematics Informatics Building, Boltzmannstr. 3, 85748 Garching bei München
Registration from August 1st here
Let's walk you through the highlights of the night:
🌙 7:00 PM: The grand entrance awaits you! Come prepared to mingle, meet fellow doctoral candidates and kick-start your networking journey.
🎤 7:30 PM – 8:30 PM: Poetry Slam. Prepare to be captivated by the talents of our featured poets at the Poetry Slam in Lecture Hall One. Get ready to be moved, inspired, and perhaps even have your own poetic aspirations awakened!
🎶 8:30 PM on-wards: Live music and DJ. It's time to let loose and groove to the beats that will fill the air. We have a sensational lineup to keep you on your feet and dancing the night away.
🍔 Free food for first thousand attendees: In addition to the event itself, food trucks will be present to provide a variety of delicious options for attendees. As an added perk, we are offering coupons for free food to the first thousand people who attend.
🍺 Free drinks: We have you covered with complimentary drinks to enhance the overall experience and create a  welcoming atmosphere for attendees.
💰 Cocktails: Please remember to bring some cash with you, as we'll also be offering an array of tantalizing cocktails and long drinks for purchase. Your taste buds are in for a treat! 
📷 Photography competition: Attention all photography enthusiasts! We invite you to showcase your skills and creativity in capturing stunning moments at TUMblue. The best three photographs will win a prize, be given a certificate and be published via official platforms of the TUM.
🚄 To enhance the convenience of attending TUMblue in Garching, we have arranged a special U-Bahn service exclusively for the event. This U-Bahn will leave Garching Forschungszentrum at 3:06 am towards Sendlinger Tor, ensuring smooth and efficient travel from the event to your home. Please remember to carry a valid MVG ticket for the journey.
If you have any questions, concerns, or need further information, please feel free to reach out to our event organizers at gc-tumblue@gs.tum.de. They will be more than happy to assist you and provide any clarifications you may need.
Mark your calendar, rally your enthusiasm, and prepare for an evening that will transcend the boundaries of networking. We can't wait to see you there!
Best regards,
Your Organizing Committee of TUMblue 23
Anna Jäkel, Ashishrao Mangalore, Ayesha Müller-Wolfertshofer, Ekaterina Zhigalova, Faye Chong Huey Ping, Franziska Kotsch, Juan Lozano, Konsti Römer, Luise Koch, Severin Böhmer, Shruti Shukla, Stuart James, Vanessa Bolivar-Paypay, Vladimir Shitov